Year End Report
Every year, the Kohler Police Department submits a Year End Report to the Village Board. Take a look and see what we have been doing for the past year. It has statistics on number of calls and types of calls, as well as identifying some of the special events that we participate in. If you have any questions regarding the report, please feel free to contact me.
Curfew / Littering
Recently the Kohler Police Department has been receiving more citizen complaints of general mischief happening to their yards and houses. Many of these complaints are happening after the hours of darkness by the youth of the village. Some of the complaints are being perpetrated by friends and are causing grief for the parents that live there. When we follow up on the complaints, we have been discovering many are being committed by youth under the age of 17 after the time of curfew, which is 10:30 pm. In addition to the curfew violations, many of the homeowners are requesting enforcement of littering laws or other ordinances that apply. What may seem like fun to kids, can be very annoying to residents and may result in citations.
Carrying Concealed Weapons
The State of Wisconsin had a law go into effect on November 1, 2011, which allows carrying a concealed weapon with a permit. The law requires a background check and training. In addition, the law still prohibits carrying a concealed weapon in certain specific locations, such as Schools, Police Departments, and anywhere the premises are posted. It is the responsibility of the permitee to know where they can carry. It is advised that those that have a permit and are carrying concealed to state that fact to a law enforcement officer if you are having contact.
IRS Scams
Scammers are again calling and posing as the IRS and threatening residents if money isn't paid. They threaten the homeowner that they will call the police/sheriff and have them arrested if they don't pay the judgments against them. The phone's caller ID may even state IRS. These are NOT legitmate calls. Do not give them any money. Hang up as soon as you can. The IRS does not phone people about judgments and we will not pick you up for the IRS. If you get targeted by one of these or another attempt to swindle you of your money and have questions, call our department for advice at 459-3877. We also have a link on our web site with further information here.
Vacation Checks
Don't forget that if you are planning to go away at any time during the year, that you may have the Kohler Police Department check your house while you are gone. Residents can now request a vacation check online, by stopping by the department, or calling. If you call outside of regular business hours, you may leave a message too. In your message include your name, address, duration of your vacation, and any other pertinent information that we may need to know. Some pertinent information may include lights that are on timers, alarms, and names of persons that may stop by or keyholders. Any other questions about this service, please call the police department.
Soliciting without Permits
The Village of Kohler has been experiencing an increase in door-to-door salespersons soliciting without first obtaining permits. The fees for the permits are nominal, but the important aspect is that the Village is aware of exactly who is soliciting. Background checks can be run and only legitimate organizations are allowed to solicit. If someone is soliciting legally, they will not be upset if they are asked to see their permit. If no permit has been issued, please send them on their way and contact the police department immediately. Non-profit organizations and established local businesses that may be going door-to-door are exempt from the permits issued by the Village.
Gunlocks
Just a reminder for residents with firearms that the police department continues to supply Masterlock trigger locks for all residents that want one. In addition to the Masterlock trigger locks provided by the department, a federal program - Project Childsafe, continues to also have locks available at the department. These locks are the cable lock variety and anyone may request up to three.
New Community Resource Officer
The Kohler Police Department just started the process, but will be hiring a new full-time officer in the upcoming months. The new officer is being co-funded by the Village of Kohler and the Kohler School District to be able to staff a position that will be in the schools full-time during the school year. This new position will be able to provide for the school's needs, but also will give the community greater access to programs that the Kohler Police Department will provide.
School Back in Session
Now that school will be back in session, please remember to drive carefully on the streets around the school. The speed limit is 15 mph when children are present in the school zones. There is no stopping or standing of vehicles for the westbound traffic on School Street or on Church Street adjacent to the school. Also, for parents that drop children off in the morning do so close to the crosswalk so the students can be helped across the street. Students that are crossing in mid-block amongst the vehicles are harder to see and are not as safe. The safest location would be to drop students off on the north side by the canopy. Follow the aides' directions for smooth traffic flow.
Law Enforcement Solicitation
The Kohler Police Department receives numerous calls about phone solicitation from telemarketers on behalf of law enforcement. Many people have been wondering how that money affects the local police department. Our response is that we don't receive any money from those solicitations, and I recommend that people don't donate to these telemarketers. My recommendation would be for those that want to donate, do so directly to the charity of your choice. Telemarketing is a business and only a portion of that money goes to those associations/entities. Also, these types of calls can be annoying, but due to their affiliation with non-profit organizations, they are not restricted by the "No Call List".
New Officer Hired
On 07/25/2018 Katie Schoch started as the newest Police Officer for the Kohler Police Department. Katie was sworn in as a new officer in front of her proud family. This position is a new position to allow the Kohler Police Department to put a full-time officer in the school. Officer Schoch grew up in Minnesota and recently graduated from Lakeshore Techical College in Police Science where she also attended the Policy Academy. Officer Schoch will be training primarily with Officer Adam Schmitz for about three months.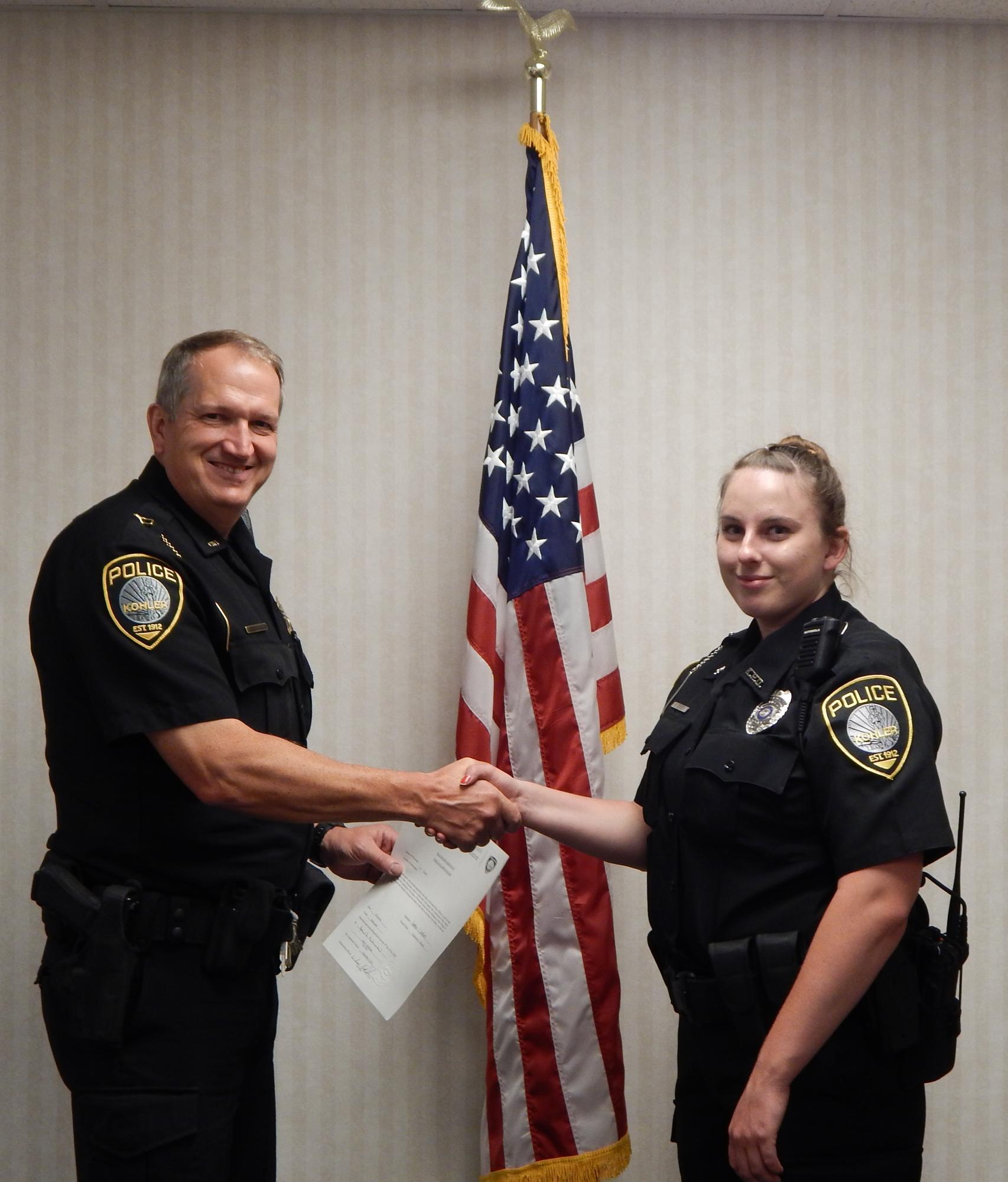 Play Vehicles
The Wisconsin statutes prohibits "play vehicles" from being on the roadways in Wisconsin. These include: skateboards, ripsticks, and scooters. Sidewalks are bumpy, but the kids are not allowed to ride these in the streets. Also, state statutes prohibit any motorized vehicle from being operated on the sidewalks. That would include motorized stand up scooters. For these motorized scooters, this basically leaves only private property where permission has been granted. Please understand that the state statutes cannot be changed by Village ordinance, therefore we cannot permit someone to operate in violation. Many of these items are not cheap to purchase. Please be cognizant of the rules prior to purchasing one for the family.
Theft from Curbside
There have been several thefts reported of items being taken that were located close to the road. One such item was a lawnmower that wouldn't fit on a landscape trailer. We are not sure, but someone may have thought that it had been left at the curb as garbage. However, we do have an ordinance that prohibits the taking of recyclables/garbage from the curbside. The Village has a contract and receives money back from the recyclables that are picked up along the curb. Also, we do get theft complaints like bikes or lawn mowers, etc., that may be left close to the curb. Therefore, if you see someone that may be suspicious or actually taking something from the curbside, you should call the police.
Notifying the Police Department
There have been several incidents recently where an immediate police response was required, but was delayed because callers left officer on-duty voicemails at the department rather than being connected to a dispatcher. After office hours, the Officers that are on-duty check for voicemails periodically throughout their shift as time allows. Most often, Officers are out on patrol. Residents are reminded that for emergencies such as crimes in progress, suspicious persons, or other incidents where time is of the essence, residents should dial 911. For routine calls where an Officer needs to respond, but not in an emergent fashion, should be reported by calling 459-3877 and selecting option 2 to have an Officer dispatched by the Sheriff's Department. The on-duty officer voicemail, option 3, should be used for calls such as vacation checks or calls that we don't need to respond to right away as we may not get the message for several hours. This will help our department respond to your needs in an appropriate manner.
Don't be a Victim
There are many scams out there. Many of them prey on your good intentions of helping those in need or your eagerness to "win" money. If you get a phone call that someone you know is stuck in a foreign country and can't leave until they are wired money, don't believe it. Anytime that a sweepstakes calls and says that you won and you need to pay money to collect the winnings, don't believe it. If someone is planning on buying something from you and "accidentally" makes the check out for too much, and asks you to either keep it or send them the difference, don't believe them. You'll be out the check amount and the extra that you sent back. These are some of the most common ways for you to get talked out of your hard earned cash. Also, anytime you cash a check which bounces, or is fraudulent, you are on the hook. Your bank will make you reimburse them. You will never win a sweepstakes you didn't enter; you should NEVER pay money to "win" money. Even calling back some of these scam artists will cost you. By calling a (876) area code, you will be charged up to $10/minute.
If you get targeted by one of these or another attempt to swindle you of your money, call our department for advice.
Carbon Monoxide Detectors
I received a call from a Village resident requesting that I write about carbon monoxide detectors. She went on to tell me that a bird had built a nest in her chimney that eventually blocked the odorless fumes from escaping. She hadn't felt well, and almost didn't wake up for a phone call. Once awake, she faintly heard her detector being activated. She was succumbing to the deadly fumes of the blocked furnace, carbon monoxide. She left the residence and had the problem fixed. Without the detector, we may not have had our conversation. If you don't have a detector, they aren't expensive and can save your life. I'm glad we had our conversation for several reasons, seeing that she is okay and also for the topic to write on. Please click here for more information on symptoms of carbon monoxide poisoning. Also if anyone has a suggestion, please don't hesitate to send a topic my way.
Identity Theft
Have you or someone you know been a victim of identity theft? The 2017 Identity Fraud Study, released by Javelin Strategy & Research, found that $16 billion was stolen from 15.4 million U.S. consumers in 2016, compared to $15.3 billion and 13.1 million victims a year earlier. In the past six years, identity thieves have stolen over $107 billion. The perpetrators are looking for victims without criminal records and good credit ratings, that's you! Protect yourself with some easy to do stops. Shredding your confidential mail is very important. Remove unnecessary identifying information from your checks, such as phone numbers and drivers license numbers (a retailer will ask if they need it). Check your credit report annually for free at www.annualcreditreport.com. You don't need to sign up for anything at the site to get the report. Stop unsolicited pre-approved credit cards from being mailed by calling 1-888-5OPTOUT (1-888-567-8688), you can opt-out for life. Also, never answer questions about your identity on the phone or by unsolicited e-mails. Your bank or other financial institutions have all your information, they don't need you to tell them again by e-mail or phone.
Prescription Drug Disposal
The Kohler Police Department has a secure drug disposal box in its front lobby entrance. The box is available for all prescription drugs and over the counter medication in their original containers. The box cannot be used for illegal drugs, needles, syringes, thermometers, or any hazardous materials. The box was obtained through a partnership with Sheboygan County to keep drugs from being flushed down toilets or dumped into landfills. Please utilize the box for any old drugs to keep them out of the wrong hands and to be disposed of properly. The goal is to provide a safe, convenient, and responsible means of disposal of prescription medications. Unused prescription medications in homes create a public health and safety concern, because they can be accidentally ingested, stolen, or misused, and abused. Unused or expired medicine should never be flushed or poured down the drain. Removing potentially dangerous pharmaceutical substances from our state's medicine cabinets helps to prevent them from going into our water supply. Water reclamation facilities are not designed to remove all of them and trace amounts of pharmaceuticals are showing up in rivers and lakes around the world.
New Crossing Guard
You may notice a new crossing guard at CTH PP/Highland Drive. Lana Lensink, who helped out last year, has been hired as the new crossing guard for that intersection. Lana is a long time village resident and is looking forward to a good school year. This intersection is still going to have a crossing guard during the construction of the roundabout. Please greet Lana if you see her.