Gunlocks
With gun deer hunting season right around the corner, the Kohler Police Department is reminding all those with firearms to use caution when handling firearms. Also, the Kohler Police Department continues to supply Masterlock trigger locks for all residents that want one. One free gunlock can be obtained from the police department just by stopping in. For those who have already obtained one in 2019, another can be obtained starting in 2020. In addition to the Masterlock trigger locks provided by the Kohler Police Department, a federal program, Project Childsafe continues to have locks available at the police department while supplies last. These locks are the cable lock variety and anyone may request up to three of those for their guns too.
Phone Scams
I have received information that the Village residents are getting calls from the Police and Sheriffs Association asking for donations. I just wanted to clarify that this group is not associated with the Kohler Police Department. We are not a member (if membership exists) and do not receive funds or training from their association. If you are interested in supporting area law enforcement with donations, I would encourage you to support the local Shop with a Cop Program or one of our K-9 Programs. Please feel free to contact me if you have any further questions.
Year End Report
Every year the Kohler Police Department submits a year end report to the Village Board. That report is open to all to read too and can be viewed by clicking here. Take a look and see what we have been doing for the past year. It has statistics on number of calls and types of calls, as well as identifying some of the special events that we participate in.
Vacation Checks
Don't forget that if you're planning to go away on spring break or at any time during the year, that you may have the Kohler Police Department check your house while you're gone. Residents can request a vacation check by clicking here, by stopping by the department, or calling. If you call outside of regular business hours you may leave a message too. In your message include your name, address, duration of your vacation, and any other pertinent information that we may need to know. Some pertinent information may include lights that are on timers, alarms, and names of persons that may stop by or key holders. Any other questions about this service, please call the department.
On August 17, 2020 Officer Eadie and Officer Mireles have finished the department's Field Training Program. If you see them out and about, introduce yourself and welcome them to the community.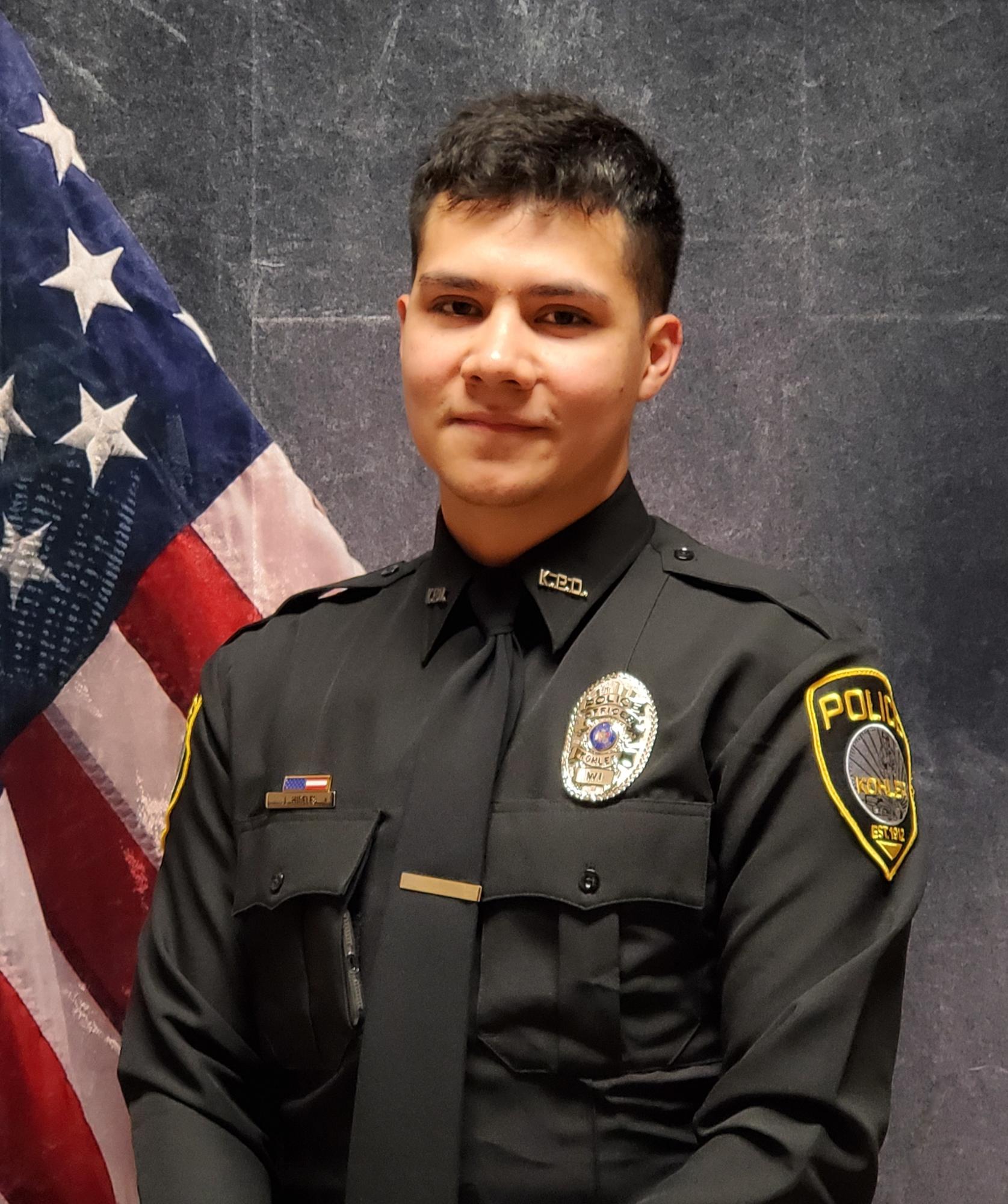 Prescription Drug Disposal
The Kohler Police Department has a secure drug disposal box in its lobby. The box is available for all prescription drugs and over the counter medication in their original containers. The box cannot be used for illegal drugs, needles, syringes, thermometers, or any hazardous materials. The box was obtained through a partnership with Sheboygan County to keep drugs from being flushed down toilets or dumped into landfills. Please utilize the box for any old drugs to keep them out of the wrong hands and to be disposed of properly.
School Reminders
Please remember to drive carefully on streets around the village. Parents please remind your young high school drivers that both the high school and elementary school share start and release times, putting them in the parking lot and on the roads at the same time. The speed limit is 15 mph when children are present in school zones. There is no stopping or standing of vehicles for the westbound traffic on School Street or on Church Street adjacent to the school. Parents dropping your children off in the morning please do so near a crosswalk so they can be helped across the street. Children crossing mid-block are hard to see and it is not safe. The safest location to drop off students is the northside of the school by the canopy.
Wisconsin State Statute 341.15(1m)(a) reads: Except as provided in par. (b), and registration decal or tag issued by the department shall be placed on the rear registration plate of the vehicle in the manner directed by the department. In this case the manner directed by the Wisconsin Department of Transpiration is shown in the picture to the right. Please remove all old stickers and have the month in the lower left corner and the current year in the lower right.
Boat, Camper, Trailer, Parking
No person shall park or leave any mobile home, camper, trailer, or boat and trailer on any street or highway that is not posted within the village for a period longer than 24-hours unless that person has obtained permission from the Kohler Police Department.
You will see this year's vehicle parked in its traditional spot at Kohler Schools or serving the community as he makes home visits or meets with community partners.
Manager Jeff Romanoski, General Manager John Burger, Executive Manager Brad Morehouse, Chief Shawn Splivalo, and Officer Matthew Hocevar
Thank you Sheboygan Chevrolet
Buick-GMC-Cadillac
The Kohler Police Department wants to thank Sheboygan Chevrolet-Buick-GMC-Cadillac for the continued support of our Community Resource Officer stationed at the Kohler School District. The Community Resource Officer's role is currently filled by Kohler Police Officer Matthew Hocevar. For the last several years, Sheboygan Chevrolet-Buick-GMC-Cadillac has loaned a vehicle to our Community Resource Officer. This vehicle allows Officer Hocevar to effectively conduct his mission of serving the community as well as announce his presence on our school's campus.
Newly Designed Squad Cars
The Kohler Police Department has introduced our new patrol cars, the newly designed 2020 Ford Explorer Police Interceptor. With the new model we have updated the graphics, emergency lighting, and interior space.
We hope the graphics display a professional image while allowing the squad to be low profile while conducting traffic enforcement, but still visible when used in emergencies. This is accomplished by the reflective black on black chevron design on the rear, but the traditional black and white on the sides.
The new lighting system is state of the art improving safety for the Officers and other motorists. This lighting system is now being used by most of our surrounding communities. It has different settings and responds to how the squad is being used. For example, it is more active when the squad is in motion, but more passive when the squad is stopped.
The interior space was redesigned to allow the officers to function more effective, and as a result, more safely. The prisoner space was also updated as required to store all the communication devices needed in modern policing.
If you would like to take a closer look at the squads, please contact the department or wave us down. We would be happy to share.
License Plates
There are a couple of trends that we would like to see not continue on license plates into 2020. 1st is the practice of placing the year sticker all over the license plate. This makes the plate hard to read for Law Enforcement. Also by the year sticker missing in the right corner, it would appear that the plate is not current as officers are scanning the plate. Keep in mind our officers scan hundreds of plates a year, so making it clear that your plate is valid is helpful.
Bike Licenses Required
Just a reminder licenses are required and available for $2.50 each for any bikes with wheels larger than 16". The license allows officers to return found and recovered bicycles to their owners. You can stop by the Kohler Police Department or find the form on our web site.
Deer Abatement Program
Due to the Village's significant deer population, the Kohler Police Department will be holding its deer abatement program for the 2020 deer season. This program has not been held since 2015. We plan on releasing the culled deer to village residents first and then to non-residents that let us know their interest. You will be asked to sign a waiver to accept the deer.
If interested in being added to our list, please call the department at (920) 459-3877. We will need your name, address, contact number, and number of deer you're interested in. You may also send us this information by clicking here and sending us a message with the required information.
The 2nd issue is the tinted covers on license plates. Wisconsin State Statute 341.16(2) reads: Registration plates shall be attached firmly and rigidly in a horizontal position and conspicuous place. The plates shall at all times be maintained in a legible condition and shall be so displayed that they can be readily and distinctly seen and read. Although there is some interpretation needed for this statute, Wisconsin Court case law has ruled that this statute applies to any cover placed over the numbers and letters of a license plate. I know they look cool, but please remove any covers over the license plate.
New Officers Hired
The Kohler Police Department would like to welcome its two newest members. Officer Patrick Eadie and Officer Jose Mireles were both sworn in on May 18, 2020. Both are recent graduates of Lakeshore Technical College with Associate's Degrees in Criminal Justice.
Walk with a Cop Program
The Kohler Police Department will be trying a pilot program of Walk with a Cop. This program is open to any village resident or person employed within the Village of Kohler. We will walk in the Village for 15-30 minutes. We will be prepared to talk about neighborhood issues, village issues, and policing in America.
We hope this program will allow us to better connect with the community. The Kohler Police Department is a reflection of values held by the Village of Kohler residents and its businesses and is only improved by open communication.
As part of the pilot program, we will be scheduling a limited number of walks Monday-Friday from 7am-6pm. If these times do not work for you, please contact our department and we will try and accomodate you. To schedule a walk, please click here and send us an email to express your interest.
Driving Conditions
Now that winter is back upon us, we all have to remember to drive more carefully. Even though some vehicles seem to handle better in the snowy conditions, remember to give yourself more distance between vehicles when stopping. SUVs can get going faster with 4-wheel drive, but have the same problems stopping on slick roads. Snowbanks can reduce visibility, so be aware of pedestrians. If a vehicle is parked outside, remember to clear the windows. Proper visibility is extremely important, especially with children crossing the streets early in the morning. Also, remember that getting ready in the winter takes more time, so to avoid having to rush, plan ahead.
Snow is on the Way
The Village of Kohler doesn't have winter parking regulations like many other communities with parking on the even or odd side of the street throughout the winter months. That is typically done so if it snows the communities can completely clear the streets after the snowstorms over two days. Instead, we just rely on residents moving their vehicles promptly after snowstorms. All vehicles need to be removed from the streets in the event a Snow Emergency is called. The DPW is responsible for the snow emergencies being called. If large snowfalls are anticipated, be mindful that a snow emergency may be called. Also, just a reminder that it it illegal to blow snow into the Village streets. Helping out in these areas makes our streets cleaner and safer during the winter season.