Year End Report
Every year the Kohler Police Department submits a year end report to the Village Board. That report is open to all to read too and can be viewed by clicking here. Take a look and see what we have been doing for the past year. It has statistics on number of calls and types of calls, as well as identifying some of the special events that we participate in.
Vacation Checks
Don't forget that if you're planning to go away on spring break or at any time during the year, that you may have the Kohler Police Department check your house while you're gone. Residents can request a vacation check by clicking here, by stopping by the department, or calling. If you call outside of regular business hours you may leave a message too. In your message include your name, address, duration of your vacation, and any other pertinent information that we may need to know. Some pertinent information may include lights that are on timers, alarms, and names of persons that may stop by or key holders. Any other questions about this service, please call the department.
Officer Hocevar (left) and Officer Eadie (right) during the sunrise Memorial Watch
Gunlocks
The Kohler Police Department is reminding all those with firearms to use caution when handling firearms. Also, the Kohler Police Department continues to supply Masterlock trigger locks for all residents that want one. One free gunlock can be obtained from the police department just by stopping in. For those who have already obtained one in 2019, another can be obtained starting in 2020. In addition to the Masterlock trigger locks provided by the Kohler Police Department, a federal program, Project Childsafe continues to have locks available at the police department while supplies last. These locks are the cable lock variety and anyone may request up to three of those for their guns too.
Thank you Sheboygan Auto Group!
The Kohler Police Department would like to thank Sheboygan Chrysler, Dodge, Jeep, and Ram for the use of the Jeep Cherokee. The Sheboygan Auto Group has been a strong supporter of our Community Resource Officer by providing a vehicle every year. This vehicle once marked with KPD emblem shows law enforcement presence on our school campus, and allows Officer Hocevar to perform his duties off campus.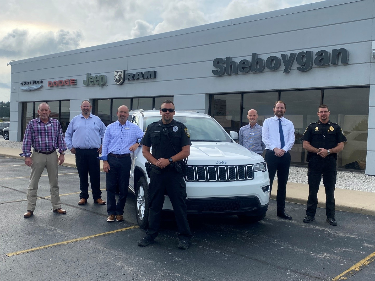 Policing in America
After the death of George Floyd in Minneapolis on May 25, 2020 and the shooting of Jacob Blake in Kenosha on August 23, 2020 many Kohler citizens understandably began to question policing in America.
It is important to the Kohler Police Department that we try to answer the law enforcement related questions asked by our community members. The main questions we have received have been about our use of force policies and de-escalation training. The second has been about systemic problems in American policing. After some reflection on our part, we hope that our answers can be used as a starting point of continued conversations.
To help answer the first question, we have published all of our use of force policies on the Kohler Police Department website. They can be found by clicking here. You will notice that policies have been recently published. This was not due to recent events, but as a part of a new and updated policy manual. The Kohler Police Department's Use of Force Policy is consistent with most use of force policies found in the State of Wisconsin and is accredited by WILEGA, an independent law enforcement accreditation group. De-escalation training has always been part of law enforcement training and is taught to Officers throughout their academy and career. In the last decade there has been an increase in training focusing on mental illness or those experiencing a mental health crisis. This training is intended to help officers recognize contributing factors to threatening behavior and has reduced use of force incidents. Unfortunately, this does not eliminate the need for all use of force. If necessary threatening or resistive individuals may still be met with force to be taken into custody, to reduce the threat to themselves, others, or if statutorily required.
As we shift to talk about systemic problems in American policing, it's important to note that police departments are not part of a national system; they are local, independent police departments. Although officers are certified through the State of Wisconsin, each department has their own culture, specific law enforcement priorities, and policies. With that said, the concept of a national systemic problem in American Policing seems unlikely. This does not mean that there are not police departments and communities that have a long history of police problems, however there are also a lot of excellent police departments serving their communities. Until the communities with police problems get involved, have conversations, and focus on facts and real statistics that affect them, there will be no improving those police problems. All police departments in the United States are accountable to their citizens through their locally elected officials. This is by design, and when used properly, this system is the most effective way to hold police departments accountable and make the necessary improvements. Local oversight and support is imperative to having a quality police department. When there is not effective oversight or support, we begin to see the tragic breakdown in the relationship between the police department and the community they serve. This is not a perfect system however it is the best system for community policing. For better or worse Police are a reflection of their community through their elected officials.
At the Kohler Police Department we believe we have a strong relationship with our community. It is our role to take police action on your behalf. We do not act independently but as part of the community. If you, as a resident or a person employed in the Village of Kohler, have any questions or concerns please don't hesitate to reach out to your elected representative, a Village Trustee, or the Kohler Police Department directly. It is our goal to have every member of our community feel safe and have a trusting relationship with their police department.
Law Enforcement Memorial Ceremony
On Friday, May 14th 2021 the Kohler Police Department, Sheboygan County Sheriff's Department, and Sheboygan Police Department participated in the annual Law Enforcement Memorial Ceremony held at the Sheboygan County Courthouse.
Every year during Nation Law Enforcement Week, we take the time to honor our fallen. These fallen Officers were acting on behalf of our communities and gave the ultimate sacrifice.
In 2020, 238 Officers died while serving their communities. 46 of those officers died as a result of felonious acts, 47 officers died in accidents, and 145 officers died of Covid-19. (135 additional Covid-19 deaths are still under review).
For a Covid-19 death to be considered a line of duty death there needs to be information that detailed how the officer may have contracted the virus through direct exposure while conducting their official duties and a timeline of events prior to the officer becoming ill.
Of those killed during a felonious act, 9 were ambushed, 7 died during an investigation or while performing law enforcement activities, 7 while assisting other law enforcement officers, 5 were responding to crimes in progress, 4 were reporting to disorders or disturbances, and 4 were involved in arrest situations, among others.
Please take a minute to remember them and their families.
Walk with a Cop Program
The Kohler Police Department will be trying a pilot program of Walk with a Cop. This program is open to any village resident or person employed within the Village of Kohler. We will walk in the Village for 15-30 minutes. We will be prepared to talk about neighborhood issues, village issues, and policing in America.
We hope this program will allow us to better connect with the community. The Kohler Police Department is a reflection of values held by the Village of Kohler residents and its businesses and is only improved by open communication.
As part of the pilot program, we will be scheduling a limited number of walks Monday-Friday from 7am-6pm. If these times do not work for you, please contact our department and we will try and accomodate you. To schedule a walk, please click here and send us an email to express your interest.
Boat, Camper, Trailer, Parking
No person shall park or leave any mobile home, camper, trailer, or boat and trailer on any street or highway that is not posted within the village for a period longer than 24-hours unless that person has obtained permission from the Kohler Police Department.
Bike Licenses Required
Just a reminder licenses are required and available for $2.50 each for any bikes with wheels larger than 16". The license allows officers to return found and recovered bicycles to their owners. You can stop by the Kohler Police Department or find the form on our web site.
License Plates
There are a couple of trends that we would like to see not continue on license plates into 2020. 1st is the practice of placing the year sticker all over the license plate. This makes the plate hard to read for Law Enforcement. Also by the year sticker missing in the right corner, it would appear that the plate is not current as officers are scanning the plate. Keep in mind our officers scan hundreds of plates a year, so making it clear that your plate is valid is helpful.
Wisconsin State Statute 341.15(1m)(a) reads: Except as provided in par. (b), and registration decal or tag issued by the department shall be placed on the rear registration plate of the vehicle in the manner directed by the department. In this case the manner directed by the Wisconsin Department of Transportation is shown in the picture to the left. Please remove all old stickers and have the month in the lower left corner and the current year in the lower right.
The 2nd issue is the tinted covers on license plates. Wisconsin State Statute 341.16(2) reads: Registration plates shall be attached firmly and rigidly in a horizontal position and conspicuous place. The plates shall at all times be maintained in a legible condition and shall be so displayed that they can be readily and distinctly seen and read. Although there is some interpretation needed for this statute, Wisconsin Court case law has ruled that this statute applies to any cover placed over the numbers and letters of a license plate. I know they look cool, but please remove any covers over the license plate.
Prescription Drug Disposal
The Kohler Police Department has a secure drug disposal box in its lobby. The box is available for all prescription drugs and over the counter medication in their original containers. The box cannot be used for illegal drugs, needles, syringes, thermometers, or any hazardous materials. The box was obtained through a partnership with Sheboygan County to keep drugs from being flushed down toilets or dumped into landfills. Please utilize the box for any old drugs to keep them out of the wrong hands and to be disposed of properly.
Phone Scams
I have received information that the Village residents are getting calls from the Police and Sheriffs Association asking for donations. I just wanted to clarify that this group is not associated with the Kohler Police Department. We are not a member (if membership exists) and do not receive funds or training from their association. If you are interested in supporting area law enforcement with donations, I would encourage you to support the local Shop with a Cop Program or one of our K-9 Programs. Please feel free to contact me if you have any further questions.